The Secrets of High-Performing Teams (Part One)
What extreme teams know about setting and achieving remarkable goals
by Melanie Farmer and Paul Hawkins, Crazy Might Work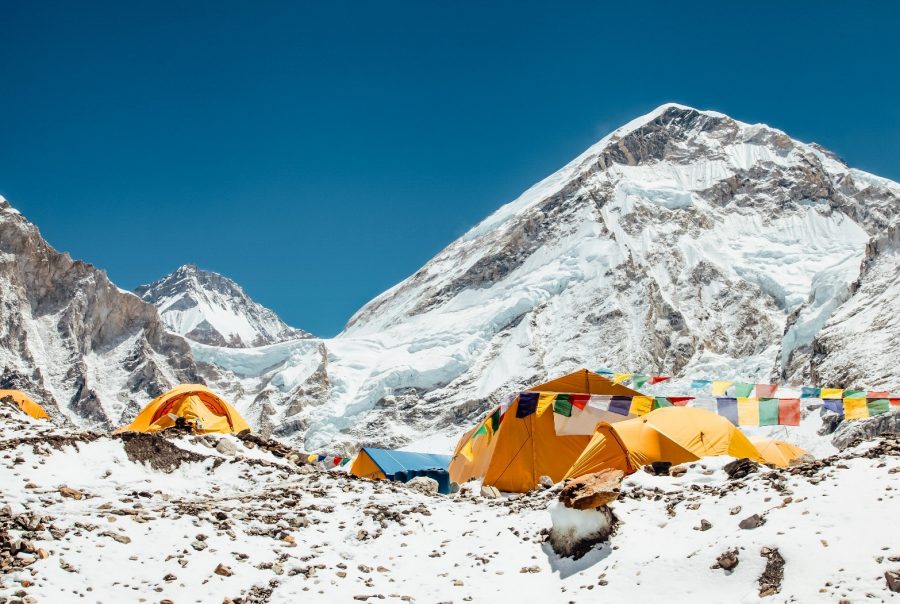 Why do some teams achieve extraordinary goals under extreme conditions and constraints whilst others fail, even when well-resourced and highly trained?  In this series on high-performing teams, we pull out some of the less obvious threads.
Seven Summits
When an all-female, Nepalese mountaineering team set out to reach the summit of Mt Everest in 2008, their mission was less about the mountain, than challenging gender stereotyping in their country.  To achieve their goal, they needed to overcome funding issues, ridicule, societal pressures, and undertake extensive training and conditioning.  Some of the women had challenging origin stories including extreme poverty, sex trafficking, arranged marriages and most of them had never climbed a mountain, so the local skepticism about their chances of success was great.
Despite the challenges, all ten women successfully reached the summit and survived the 45-day trek.  By 2014, the team had gone on to conquer all "Seven Summits" (the highest peaks on each of the seven continents), receiving international recognition and establishing multiple education programs and initiatives that fundraise, advocate and educate.
However, what many miss about this story are the behavioural supports that this high-performing team put in place to sustain commitment and counteract the effect of naysayers and critics.  Shailee Basnet, team coordinator, reflected; "It was a year between the decision to climb and the moment of ascent.  We had 10 women climbers but there were 33 in the support team. It takes a village to put one person on the summit.  We were so prepared in mind, body, and spirit.  Our love made our commitment 110%."
Their efforts to control social stimuli that might derail them and maintain long term effort replicate what we know about behavioural change from research by behavioural psychologists like Quinn et al. (2010).
For example, the avoidance or removal of negative temptations ('stimulus control') and installation of social supports and 'vigilant monitoring' have been shown to support long-term, challenging change.
The seven-summit team applied these and other proven strategies to sustain their enthusiasm. We have summarised these supports using a mission-organising construct, borrowed from elite military teams, called SMEAC:
1. Situation: This involves acknowledging the uncomfortable truths of the current situation and where we are headed without intervention. The response is two-fold: First of all, setting an 'avoidance' goal that articulates the nightmare outcome that we want to avoid at all costs – in this case, being ridiculed and letting down the Nepalese women that were following their progress across the country.
2. Mission: The second element of the response is to come up with a compelling 'approach' goal – in this case, to challenge stereotypes and establish gender role models for Nepalese women. The group rarely talked about the summit.  Instead, they visualised the feeling they would have when they walked back into their village having successfully climbed Everest (what behavioural scientists call 'prospective memory').
3. Execution: This is deciding how we will get from the uncomfortable present to the aspirational future. It is a very detailed plan and visualisation of each significant step of the process, including how they would deal with setbacks like the death of a team member ('implementation planning' in behavioural parlance).
4. Administration: Consideration of all the elements required to keep their collective effort on track, including funding, strength and altitude training, as well as what needed to be filtered out (once funding came, they relocated to a training base for 6 months, avoiding contact with negative influences, including the press, fellow climbers, and family).
5. Communication: Daily monitoring and communications internally, as well as with their external sponsors and supporters to keep them in the loop.
Consider these elements when you are pulling together a high-performing team to attempt something that requires a high level of commitment.
Key Take Aways from Each of our Articles on High-Performing Teams
Article 1 – Seven Summits. The story of the all-female Nepalese climbing team that successfully ascended Everest. Key takeaway – Behavioural change needs social support.

Article 2 – Thai Cave Rescue. The heroic rescue of 12 boys from a flooded cave in Thailand. Key takeaway – Imperfect action: Full and timely commitment to a mediocre plan is better than late commitment to a great one.
Read it here.
Article 3 – Solar Impulse. We shared the extraordinary success of the team who delivered a 5 day – 5 night flight around the world without fuel. Key takeaway – High-performing teams become more motivated when presented with near-impossible goals.
Read it here.
Additional Resources:
BBC Interview with "7 Summits" leader (BBC, 2023)

World Food Program coverage of the "7 Summits" female team's journey (World Food Program, 2015)
Want original, well-researched articles like this on a monthly basis? Sign up for our newsletter. Subscribe and share below!