10th and 11th of May 2017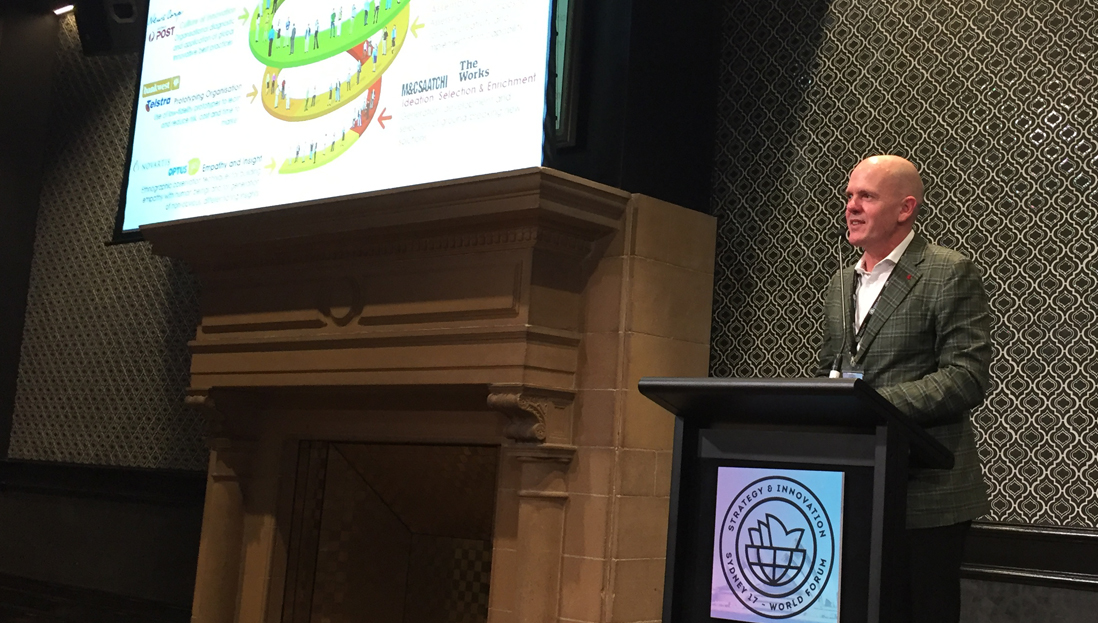 Two days of Enlightening Tales and Thoughts Surrounding Disruption, Strategy and Innovation
On May 10th and 11th 2017, over 100 Australian innovation and strategy leaders converged on Dolton House Hyde Park for the 3rd annual Sydney World Forum Disrupt. Delegates bared the crisp Autumn views to be entertained and inspired by a diverse range of speakers that provided a snapshot into Australian innovation ecosystem, contemporary innovation and strategy approaches, and where disruption lies in the years ahead.  There were a number of strong themes that emerged over the two days.  
The benefits of cross-industry collaboration are becoming increasingly understood, however, many are struggling to execute.  Liza Noonan from CSIRO spoke about the perils of collaboration with SMEs.  She asked "why is collaboration between corporates and research institutes like CSIRO and universities so difficult" (CSIRO who ranks in the top 1% globally in 15 out of 22 research fields).  Liza believes we are 'dropping the ball' when it comes to capitalising on this wealth of knowledge and innovative ideas. 
Although, collaboration between start-ups and corporates is growing.  We heard tales from organisations such as Newscorp and Auspost who are working with start-ups for mutual benefit.  This enables start-ups to scale and find their first customers, which was found to be a major pain point during day one's panel session.  On the other hand, corporates can explore different revenue streams outside of core business function.  
Culture of Innovation
The need for a "culture" of innovation is continues to remain a prevalent word in offices today.  This attention has led to valuable insights into how you make innovation stick and grow in an organisation.  Talent was naturally seen to be essential, with diversity and the sourcing of 'weirdos' that challenge the status quo key.  How we understand diversity was also challenged.  Teams must traditional diverse (gender and racially) and consist of individuals who aren't afraid to 'agitate' and question everything.  Michelle Tiereny from Stride Property Group presented a call to action to incorporate millennials into decision making processes and boards based on the fact ehy will represent 50 % of the workforce by 2020 and 75% by 2025.  Michelle advocated for the benefits of challenging traditional structures e.g. reverse mentoring, believing there is space for mutual growth and benefit.              
Implementation
Creating external opportunities for innovation was seen to be growing in popularity.  Separating innovation from core business creates freedom to experiment, mitigating and encouraging risk.  Challenging this, Levi Aron from Deliveroo, a bicycle based food delivery service, believes most organisations struggle to allow innovation endeavours influence core business, remaining isolated on the fringe to manage the concerns of senior executives.
On the other end of the spectrum, organisational innovation systems can be found to influence core business operations.  ANZ employees are taught to own the innovation through opportunities to learn robotic coding and ultimately lead the initiative.  Rita Newman from ANZ explained how to lead teams through automation, positioning it as a personal convenience rather than cost-cutting. This empowerment ensures implementation of innovations are supported by the greater organisation.           
Customer-Centric Approach – Empathy and Insight
The most prevalent theme over the two days was the need for a customer-centric approach.  The drivers behind this were found to be increased customer expectation and personalisation.  Robert Wickham from Salesforces enthralled us with his depiction of the progression in customer expectations; from reactive, to currently proactive to then eventually predictive.  Customers will soon expect businesses to know and address a problem before it even occurs. 
Differentiating and understanding that engaging with your customer and embedding customer insights are two completely different things was seen to be essential.  Adam Wardell from Novartis spoke of "allowing yourself to be lead" and "embracing the discomfort of honesty" first hand to grab customer empathy.  It is important for all employees, no matter their position, to allocate time to engage genuinely with customers.  Senior executives' immersion in their businesses first point of contact; shop attendants, call centres, delivery drivers etc can lead to greater levels of empathy.  Levi Aron from Deliveroo encourages all employees to do 2-3 hours "ride" each week to understand firsthand the pain points of both their customers and delivery riders.  He believes it is important to "allocate time to speak to your customers no matter what your position".  Mark Drasutis from Newscorp told of needing to understand the "signals" in your business by listening to call centre conversations believing "that is where they are going to come from".  Customer-centricity was identified to be a key avenue to success as technology advances.